Tips For Buying A New Refrigerator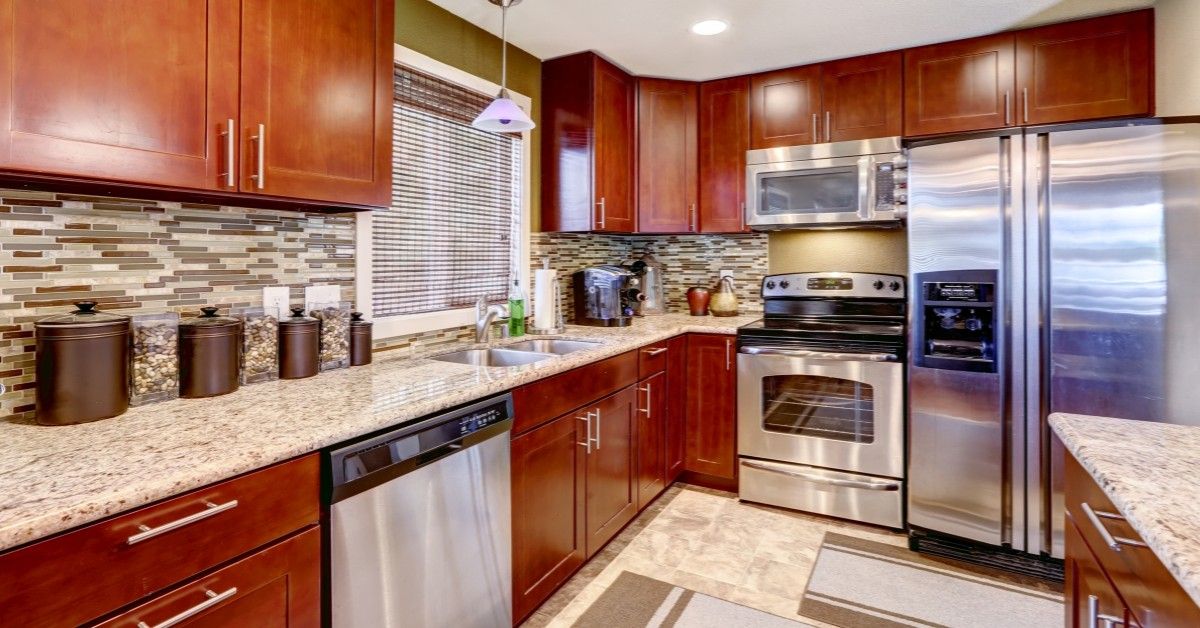 If you've already called your local appliance repair company, such as Jim and Dave's Appliance located in Loveland, CO, and they have determined that a refrigerator repair is probably not going to last long for your refrigerator, then it's time to buy a new fridge. Yet, since the average lifespan of a refrigerator is well over a decade, it has probably been that long since you've bought one. So where do you start?
Jim and Dave's Appliance offers the best appliance services in Northern Colorado, including refrigerator repair, dryer repair, stove and oven repair, and more. Our factory-trained appliance repair technicians are highly skilled in helping diagnose and repair your appliances. Our mission is to offer 100% customer satisfaction, and we'll never advise you to purchase a new appliance if we believe we can fix it. We offer affordable appliance repair you can trust. Below, we'll take a look at some tips for buying a new refrigerator. Contact our appliance repair company for an appointment today!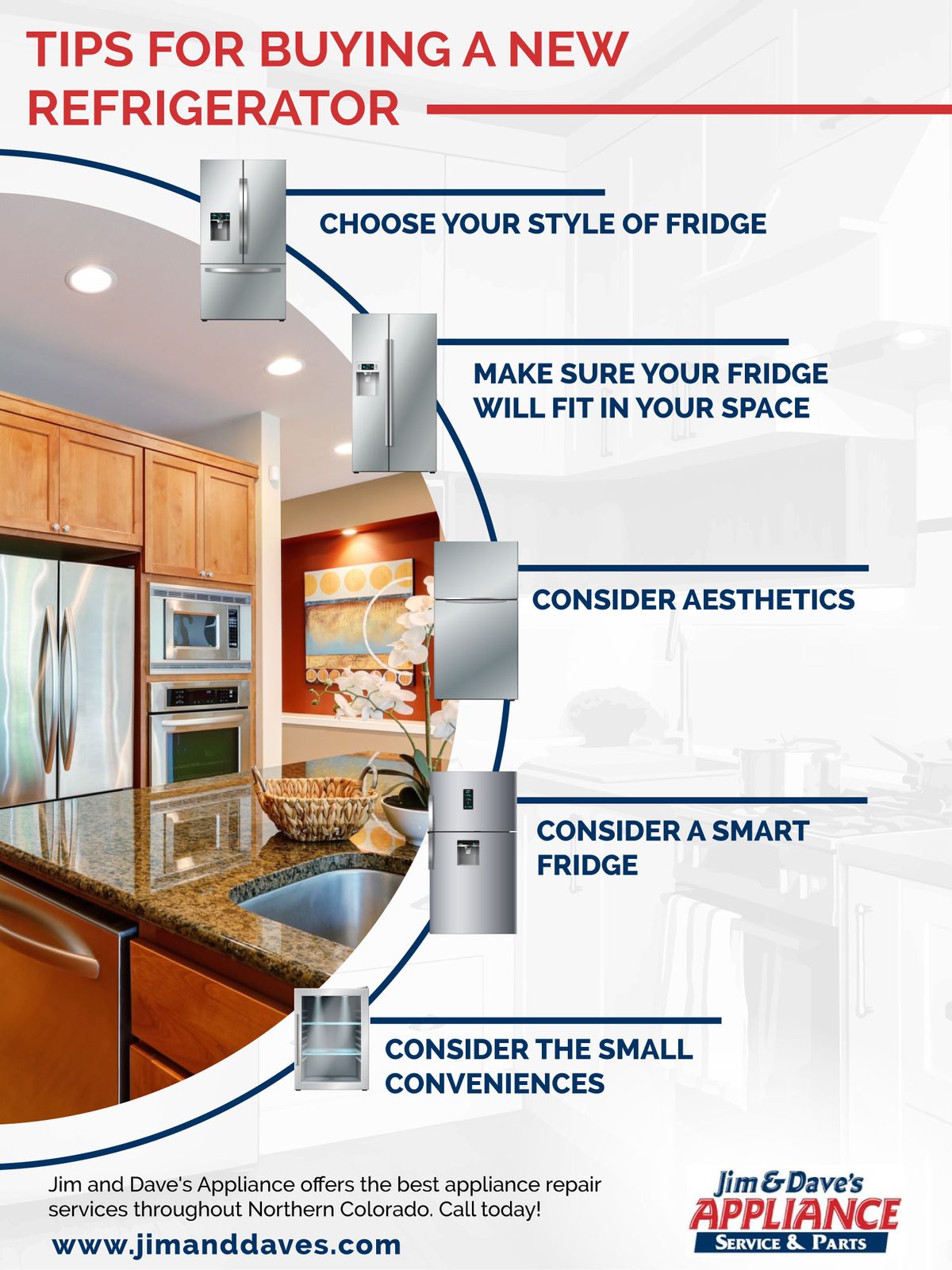 TIPS FOR BUYING A NEW REFRIGERATOR
Choose Your Style
When refrigerators, or "ice boxes" as they were originally called since they used to hold a block of ice that would then slowly melt and cool the food, first appeared, you had the grand total of one style to choose from. Gradually, consumers demanded more functional refrigerators that suited their storage purposes.
The top freezer fridge is what most people probably grew up with where the freezer compartment sits at the top with the refrigerator portion on the bottom. The bottom fridge style reverses this concept. Here, the freezer portion is on the bottom. Then you have the side-by-side where the freezer compartment is split down the middle with the refrigerator compartment. Finally, there's the French door style to suit your needs.
Make Sure Your Fridge Will Fit
Buying the wrong size fridge stinks in all ways and fashion. Each person's kitchen is different and the area where the fridge fits is different as well. If you have an older home with shelving over the top of the fridge, a modern fridge with a large capacity may not be the best choice for your home unless you are undergoing a kitchen remodel. Jim and Dave's Appliance reminds you that it's crucial to measure your space, leaving some inches for fit, before you purchase a new fridge.
Consider Aesthetics
Let's face it, kitchens sell homes, and if your appliances are mismatched, buyers will notice (and so will appraisers if you are trying to refinance your home). Plus, a white fridge with a stainless steel microwave just looks bad to you when you walk into your kitchen every morning for your cup of coffee. For kitchen appliances including refrigerators, stainless steel is by far the most popular. It is easy to maintain and keep clean, and it goes with almost any kitchen decor. This is good news if you are one who likes to repaint your kitchen walls or invest in new flooring in your kitchen.
Consider A Smart Fridge
Since you only purchase a refrigerator every great once in a while, it's worth considering investing in a top-of-the-line fridge with all of the bells and whistles, such as a smart fridge. The purpose of the bells and whistles aren't to impress your friends when they come over for dinner night. Instead, smart fridges have convenience built in that can be a great help to you and to your wallet.
Some smart fridges can monitor your energy usage and adjust accordingly to your demand. They can help with food wastage in a few ways. Some have built-in cameras so you can access them from your smartphone while at the grocery store. This prevents you from buying food items, especially perishables, that you don't need. You can also tag items in your fridge with virtual timers that will show you a use-by date. There are so many benefits to a smart fridge that one is worth considering when you are shopping for a new refrigerator.
Consider The Small Things
If you are buying a new refrigerator, you want to invest in one that fits your needs. For example, do you like a lot of small compartments to store your food? Do you want a refrigerator with an easy access door where you can grab drinks? Do you use a lot of ice and therefore you want an extra ice bin that will fill for you in the freezer? Is having an automatic water dispenser in your fridge a deal breaker? Really sit down and evaluate your needs and wants, as well as all of the new amenities refrigerators offer before buying one.
CHOOSE JIM AND DAVE'S APPLIANCE IN LOVELAND FOR YOUR APPLIANCE REPAIR NEEDS
Jim and Dave's Appliance is passionate about helping the communities of the Front Range with their appliance repair needs. From refrigerators to washing machines, dishwashers, and more, our appliance repair company focuses on diagnosing and repairing your appliance so your life won't be inconvenienced more than necessary. Let's face it, when your fridge or washing machine goes down, you need prompt appliance service you can depend on. Our highly-trained technicians answer the call with a quick diagnosis and repair. We offer warranty service and repair, too.
When you give us a call, a friendly customer service representative can answer all of your questions. If one of your appliances has had a breakdown, give our team a call to get started today!
©2022 Jim & Dave's Appliance Repair® - Do not copy. All rights reserved.