Our Appliance Repair Services
Dependable, On-Time Appliance Repair In Northern Colorado
Keep Your Home Running Smoothly
The health of your home's many appliances is crucial to keeping your home a comfortable, well-functioning place to live. Even something as small as a broken washing machine or a leaky dishwasher can throw a wrench in your plans and keep your family from establishing a comfortable routine at home. At Jim And Dave's Appliance in Loveland, we work hard for our clients to repair their appliances and keep them running in peak condition. We work on most any appliance you can think of, and our appliance repair technicians are trained to handle all major brands! We deliver factory-grade repair work that is covered by manufacturer warranty, so you can get back to enjoying smoothly-running appliances sooner without having to sweat about repair costs or voiding a warranty. Call Jim And Dave's in Loveland today for top-quality appliance repair!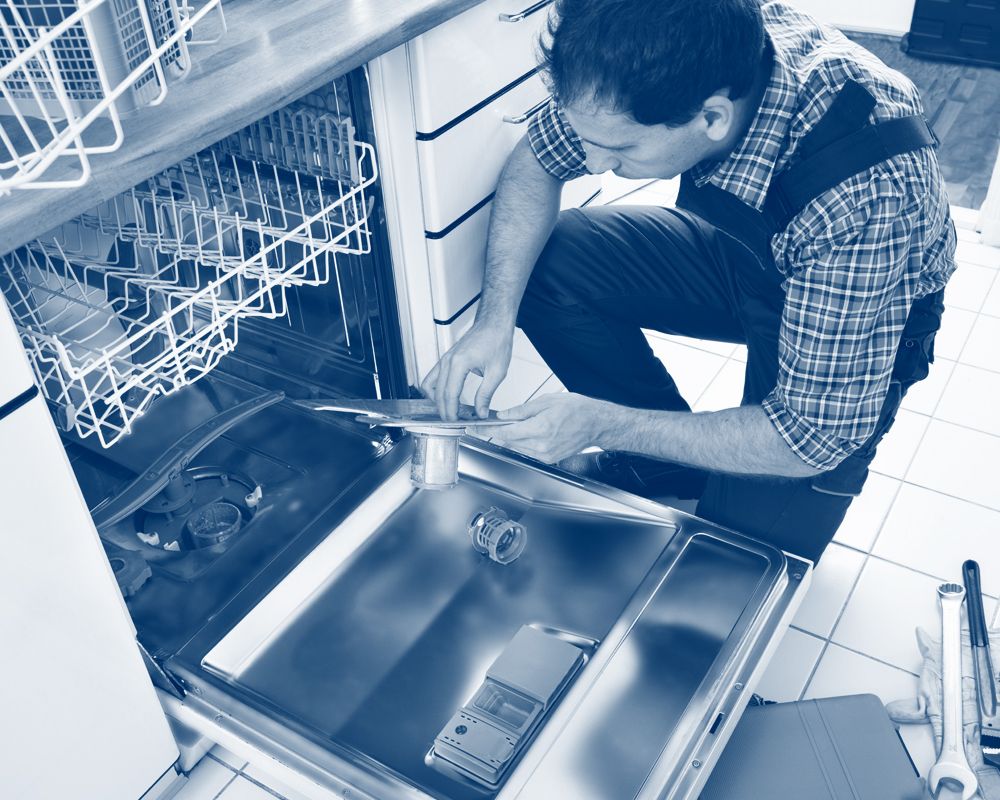 Jim And Dave's Appliance Repairs Are Reliable And Effective:
All of our appliance repair technicians are factory-trained to provide the highest quality repair work
We have experience working on all major appliance brands, including Admiral, Amana, Bosch, Electrolux, Frigidaire, GE, Jenn-Air, Kenmore, KitchenAid, Maytag, Thermador, Whirlpool, and more
We stock our work trucks full with parts to minimize the need to order in parts, leading to quicker repair work for you
All of our repair work and parts are covered under manufacturer warranty, so you don't have to worry about voiding your contract!
Our Appliance Repair Services
Appliance Repair In Northern Colorado
Welcome to Jim And Dave's Appliance! We're one of the most experienced appliance repair services in Northern Colorado, with most of our technicians boasting a decade or more of experience. All of our team members are certified to provide factory-grade repair work that's covered under warranty, and from our main location in Loveland, we travel all over Northern Colorado to help families like yours keep their appliances running in tip-top condition.
We're proud to be among the most highly-rated local appliance repair companies in the Front Range, as well as an official Business Pick of the Denver Broncos. The quality of our work and the timeliness of our service has earned us our sterling reputation and allowed us to expand our service area over the years to help even more families across Northern Colorado! Here are a just few reasons why it pays to choose Jim And Dave's for your appliance repair:
Our appliance repair technicians are factory-trained. Your appliances are critical to your home life, and it's important that these assets be treated with the same importance. By choosing an appliance repair company with factory-trained technicians, you're ensuring that the repairs get done right the first time, which helps keep your repair costs down and saves you a significant amount of time. Better yet, because of their factory training, our technicians have access to factory master technicians that can double-check and verify the diagnosis of your appliance's issues.
We have a massive parts inventory. One of the most common reasons other appliance repair companies have to delay work on a job is because they lack the parts on hand to repair your appliance on their first visit — not us! At Jim And Dave's, we strive to be as efficient an appliance repair service as possible, so we load our vans with heaps of the most commonly-needed parts to repair household appliances so that we're always prepared. We want to be able to diagnose and repair your appliances' issues in one trip as often as possible — this saves both you and us time and helps us keep our costs down, which we in turn pass on to you with more affordable prices. Win – win!
We guarantee the quality of our work. Because of our appliance repair technicians' factory training, all of the repair work and parts we provide your appliances are covered, so long as your appliance is still under warranty. If your appliance is after warranty, don't worry — we still protect our work to reduce liability for you. If your machine is after warranty at the time we service it, we warranty the parts we use in the repair work to the maximum length of time allowed by the manufacturer, and we guarantee our work for 90 days after we complete the repair work.
Areas We Serve
Jim And Dave's Appliance is a local company run by Colorado families, for Colorado families. Though our main facilities are located in Loveland, we gladly travel all over Northern Colorado and the Front Range to help families with their appliance issues. We'll go the extra mile (literally) to help you and your family with your appliance repair needs! We proudly serve Northern Colorado and the following towns and cities:
Berthoud
Broomfield
Dacono
Eaton (City Limits)
Erie
Evans
Firestone
Fort Collins
Frederick
Greeley
Hygiene
Johnstown
La Salle
Lafayette
Laporte (City Limits)
Longmont
Louisville
Loveland
Mead
Milliken
Niwot
Platteville (City Limits)
Severence
Timnath
Wellington (City Limits)
Windsor
Brands We Service
Our appliance repair technicians have years of experience in the industry and are certified to offer parts replacement and repair services for machines from all major U.S. appliance brands. All of our appliance repair services are covered under your manufacturer's warranty, meaning that we've been authorized by the manufacturers themselves to repair and replace parts in your appliances without voiding the warranty protections you received when you bought your appliances.
Some of the many brands we service include the following:
Whirlpool
Maytag
Amana
GE
Monogram
Electrolux
Frigidaire
KitchenAid
Kenmore
Thermador
Samsung
Bosch
JennAir
Kirkland
Estate
Refrigerator Repair
A broken-down fridge can be very expensive. Where are you supposed to put all of your perishables when your fridge isn't working? At Jim And Dave's Appliance, we can save you from the stress of spoiling groceries with dependable, on-time refrigerator repair services. We've been repairing fridges for Northern Colorado families since 2003, and we've become one of the appliance repair companies people trust most when their most valuable appliance is experiencing issues.
A common question we get in the appliance repair business is: how can one tell that their fridge is having problems before it completely breaks down? There are a number of symptoms you can look for in a fridge that can tell you it's time for refrigerator repair before more serious issues develop:
It's not very cold. If the inside of your fridge is feeling warmer than usual, it could be a sign that its compressor isn't working properly
Frost is building up. If certain areas in your fridge are much cooler than others, or even icy, that could be a sign that your fridge's coils are malfunctioning, or the door seal could be broken.
It's noisy. This could be a sign that the compressor or motor shaft are wearing down.
It's leaking. This is often a sign of a cracked drip pan or faulty seal.
If your fridge is exhibiting any of these signs, call us out for refrigerator repair service! You can learn more about our refrigerator repair capabilities by clicking below.
Freezer Repair
What child doesn't enjoy a refreshing, ice-cold popsicle in summer? What family doesn't enjoy the convenience of fresh ice and grab-and-heat meals? Unfortunately, when your freezer stops working, those conveniences and treats can turn into spoiled, smelly wastes of money. Luckily, our factory-trained technicians at Jim And Dave's have plenty of experience with freezer repair and will be able to get your perishables back to their frozen, preserved state quickly! Instead of shelling out for a replacement or waiting on the manufacturer to send out a specialist, call out Jim And Dave's! We'll be able to provide factory-grade repair work much sooner than they could, while still having the parts and labor covered under warranty!
No one wants their freezer to break down. If you notice any of the following signs from your freezer, call our appliance repairmen out before the problems get any more serious or expensive to fix!
Leaking water. This can be a sign of a broken or ineffective seal.
Bad smells. While this could be a result of the perishables you choose to store in your freezer, or leaving things in your freezer for too long, it could also be a signal of issues with the appliance's refrigerant.
Uneven freezing. If perishables in certain areas of your freezer are kept cooler and crisper than others, it could be a sign of mechanical issues.
Washing Machine Repair
A faulty washing machine isn't just a threat to clothes cleanliness — it could also flood your hose and permanently damage your favorite outfits. Jim And Dave's Appliance Repair can help you catch your washing machine's issues with effective, on-time appliance repair work before they develop into these major, damage-causing problems.
But how can you tell if your washing machine needs work before things take a turn for the worse? As you do loads of laundry over time, keep an eye out for any of the following phenomena:
Unusual noises. Washing machines tend to be pretty noisy when working, but if you notice new sounds over time, or harsh sounds like banging or squeaking, it could be a sign that your washing machine's motor or drum need to be repaired.
Dirty clothes. If your clothes come out of the washer looking and smelling like they did when you put them in, it likely means that your washer is reaching the end of its useful life. Call out the washing machine repair experts at Jim And Dave's for an experienced opinion!
Damp wash. If your clothes are coming out of the washer half dry and there's not enough water running through your washer, it could be a sign of a number of issues, including clogged filters or valves, or a kink in the water line.
No matter what you notice, if your washer is acting or performing differently in any way, it's worth getting things inspected by an expert. Call out one of our washing machine repair specialists to take a look and diagnose the issue!
Dryer Repair
Wet clothes never do anyone any good, and neither do broken dryers. In fact, dryers can be one of the most hazardous appliances in your home — serious malfunctions can lead to electrical fires! You need the expert eye of experienced dryer repair technicians to diagnose and correct your dryer's issues when it's having problems. You need Jim And Dave's Appliance! Our specialists have decades of experience repairing dryers of all types, from all major brands, and all of our work is protected under manufacturer warranty.
Because of the potential hazards, it's important to know how to recognize the minor issues so you can get them repaired before they develop into bigger problems that could pose a safety hazard to you and your family. If your dryer stops mid-cycle, starts operating more noisily, if its drum won't turn, or if it won't power up at all, call our dryer repair experts! We'll come out, quickly diagnose the issue, and effectively repair the problem in a single trip. Save yourself time and money by choosing Jim And Dave's to repair the issue correctly the first time.
Dishwasher Repair
Dishwashers are wonderful appliances that help us keep our sinks clear and our kitchens clean and organized, but they can also be extremely damaging to our homes when they malfunction. Because they use both water and heat to operate, dishwashers are complex appliances that require expert care. Our washing machine repair technicians are all factory-trained by the manufacturers themselves to provide top-quality repair and parts replacement for your washing machine, no matter the brand. If your dishwasher is leaking water, having water pool at its bottom after wash loads, or is simply not cleaning your dishes with the same heat and efficiency that it used to, give us a call. Click below to learn more about our dishwasher repair capabilities.
Stove & Oven Repair
Everybody deserves to be able to cook meals with peace of mind, and with skilled repair work from Jim And Dave's, you can! Stoves and ovens are complicated appliances, but our appliance repairmen have decades of experience and can keep your stove or oven running reliably, no matter the issue. It is important, however, to be alert of potential issues, since stoves and ovens can be fire risks when they malfunction, given that many use gas. If your stove or oven is cooking food unevenly, if the glass is cracked, or if you can smell gas once you're no longer cooking, call our appliance repair specialists right away!
©2022 Jim & Dave's Appliance Repair® - Do not copy. All rights reserved.