What To Know When Buying A New Appliance
Are you considering making some pricey upgrades around your kitchen and home? Maybe you notice your dishwasher isn't running as well as it used to, or maybe you simply need a bigger fridge to accommodate a growing family. Whatever it is, don't buy just yet — consider these few things first, so you don't end up making a costly mistake!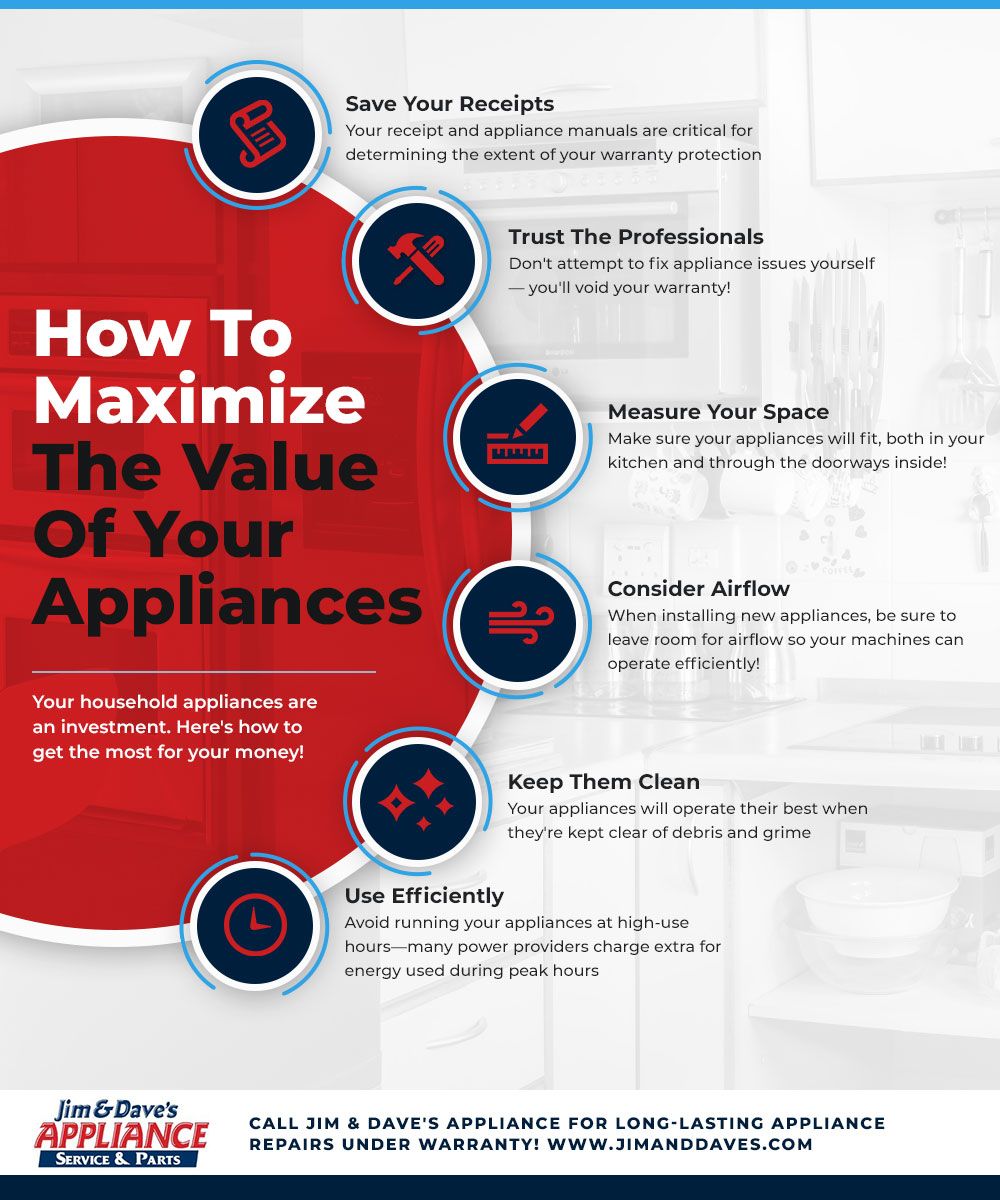 1) What's Your Budget?
This may seem obvious to you, but it can be easy to get swayed from your smart planning by particularly beautiful or fancy appliances when you see them in person. Avoid the temptation by setting a budget before you begin shopping, and stick to it!
If you're looking to buy multiple appliances to upgrade your whole kitchen at once, look for bundles at specific stores! Many stores will offer bargains if you buy an oven, dishwasher, and fridge of the same brand in a bundle package. You don't get quite as much flexibility with this route, which is important if you're looking for specific features for each appliance, but buying a bundle can save you money.
2) Are You Planning A Full Kitchen Renovation?
Kitchen remodels can be difficult to get exactly right on your own. If your budget allows, consider hiring a professional designer to help you plan around your kitchen's dimensions and other unique limitations to maximize the potential of your space.
3) What Space Do You Have Available?
It's critical that you know what size of appliance you're looking for before you go shopping, as appliance sizes can vary greatly. Dishwashers and ovens come in fairly standard sizes, but other appliances, such as fridges and laundry machines can come in a wide variety of sizes.
Measure the spaces in your kitchen that you'll be looking to fill, and be sure to account for the small amount of room each appliance will need for its cabling, and for optimal airflow to their vents. Don't forget that your new appliances will have to make it through your doorways and hallways, too, before being installed!
4) What Do Experts And Other Customers Think?
If you've done some exploring already and narrowed down your appliance shopping list to a few specific models, look online to get an idea of other customers' experiences with the specific appliances you're considering. While online reviews tend to cast products in a more negative light (satisfied customers don't write reviews nearly as often as dissatisfied customers), they can be useful for identifying common issues with particular products.
5) How Does The Appliance Look And Feel In Person?
To judge the aesthetic fit of a potential appliance with the rest of your kitchen, visit a local appliance store to see it for yourself. How smoothly do the doors of the appliance operate? If you're looking at a fridge, how firmly on track are the crisper drawers? Get a feel for any appliance you're considering by checking it out in person.
6) Are Your Space Measurements Correct?
Before you go ahead and make your last trip to the appliance store to buy that new fridge or oven you've been considering, measure everything again. Seriously! You know the saying, "Measure twice, cut once"? That applies to buying, too.
7) What Warranties Are Available, And What's The Return Policy?
The last thing you should check before finalizing your appliance purchase is ironing out your protections. What's the store's return policy if you find the appliance doesn't fit, after all? What warranties are available to protect you in the event that your appliance malfunctions? Any appliance purchase is an investment —- make sure that investment is protected with a warranty.
Choose Jim And Dave's For Top Quality Appliance Repair
If your new appliance does end up having issues, don't despair — call Jim And Dave's Appliance Repair! We offer factory-grade repairs covered under warranty to residents throughout Northern Colorado, and we're fully certified to service appliances from practically any brand you could think of. Connect with us today!
©2022 Jim & Dave's Appliance Repair® - Do not copy. All rights reserved.